PLUTA Rechtsanwalts GmbH
Trakehner Straße 7-9
Eingang A
60487 Frankfurt
+49 69 8509693-0
+49 69 8509693-29 (Fax)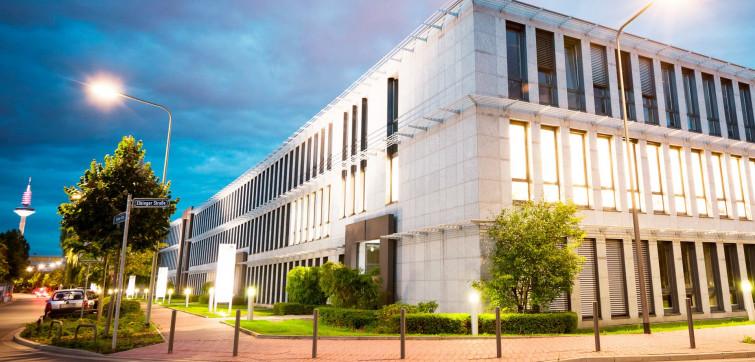 By opening the Frankfurt branch office, PLUTA gained a foothold in Hessen's economic centre as early as 2006. Both the branch office's central location in Germany and the excellent infrastructure offered by Frankfurt with its airport as a transport hub providing worldwide connections create the perfect basis for dynamic economic developments in this internationally high-ranking service and finance centre. The European Central Bank, the German Bundesbank (Federal Bank), the Frankfurt Stock Exchange, numerous financial institutes as well as the Frankfurt Trade Fair are all based in Frankfurt am Main.
The city acquires its vitality, stability and resilience to crises from the high degree of diversity offered by the locally based companies. Even if Frankfurt is first and foremost well known for its strong financial sector, it also focuses on various major target segments: the creative sector, IT and telecommunications, biotechnology and life sciences, logistics and industry.
The PLUTA experts can offer companies wishing to rethink their organisational positioning in this economic setting a wide range of specific restructuring concepts. The PLUTA insolvency administrators have gained many years of specialist knowledge, which they can offer crisis-stricken companies. They supervised or supervise proceedings involving such companies as DyStar Textilfarben GmbH & Co. Deutschland KG, the global market leader in textile dyes with five production facilities in Germany and more than 1,300 employees; Lehrerkooperative Bildung und Kommunikation e.V., an educational organisation with more than 40 institutes and over 700 employees; furthermore the proceedings for Cocoon Club GmbH & Co. KG, which operates the internationally renowned Frankfurt techno club; the cleaning company Weichelt Gebäudereinigung or Klinik Lohrey GmbH.
However, it is also the financial sector which is particularly attracted by the range of services offered by PLUTA's attorneys. Therefore, on account of their many years of experience in insolvency administration, the PLUTA experts in Frankfurt concentrate on representing creditors' interests.
Frankfurt also has excellent facilities for ensuring the availability of the talented young staff required. The city is the home of two universities, two art academies and several universities of applied sciences. Goethe University, which was founded in 1914, is one of the largest universities in Germany. The city is also well known for its impressive skyline, which together with the River Main gave Frankfurt its nickname "Mainhattan".
In this economic hotspot, the PLUTA insolvency administrators and restructuring experts in Frankfurt and the entire Rhine-Main region are well networked in order to turn around crisis-stricken companies in Germany's financial capital and to give all the stakeholders good prospects of a successful future.